Multi-Family / Commercial
Multi-Family / Commercial
Roof Rejuvenate will protect your investment and profits at a fraction of the cost of replacement.
Roof Rejuvenate is a great solution for
Apartment Buildings: You can get another 5 to 15 years out of your roof with Roof Rejuvenate. Save money against your maintenance/capital budget with zero disturbance to your tenants!

Townhome Communities/HOAs: Roof Rejuvenate can extend the life of the existing roof by 5 to 15 years, saving as much as 80% of the replacement cost. If you're a property manager or HOA representative responsible for maintenance, we would love to talk to you about saving money with Roof Rejuvenate.

Commercial Properties: Any structure with an asphalt shingle roof is a candidate for Roof Rejuvenate. Whether your roof is actually near the end of its life or you simply want to apply Roof Rejuvenate as proactive maintenance, it's a cost-conscious solution!

Investment Property Owners: A full roof replacement will eat up your net income on an investment property. Suspending that cost by getting roof rejuvenation with Roof Rejuvenate can majorly increase the profitability of your investment.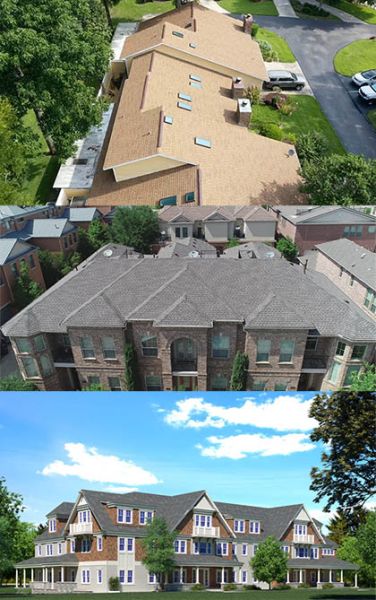 ---
A Commercial Roofing Solution That's Extremely Low Impact on Budgets Occupants and The Environment

Until now there has never been a way to maintain or extend the life of an asphalt roof. Roof Rejuvenate is an effective solution for maximizing the protection of aging roofs or simply buying some more time on roofs that are at the end of their useful life.
Prior to the application of the Roof Rejuvenate shingle treatment, trained and certified roofing specialists will perform our Roof Tune-Up Maintenance package to help alleviate small leaks around plumbing vents, skylights, and chimneys.
The entire process is quick (50,000 square feet per day), clean, and very affordable, costing just 20% of the cost of a complete roof replacement, and comes with a 5-year warranty. Discover for yourself why property management professionals across the country are thinking differently about their roofs, and leave your roofing headaches behind.